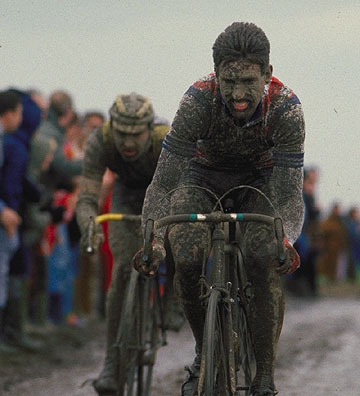 You know the photos… the ones of riders caked in mud, gritting their teeth to win a bike race. Yes, it does faintly resemble cyclocross in the Pacific Northwest, but I'm talking about the Paris – Roubaix, AKA the "Hell of the North."
On Friday, Jan. 21, we'll be screening Road to Roubaix, which captures behind the scenes story of riders, fans, mechanics and the unpredictable landscape, offering insight into the grueling battle of man against pavé (cobblestones) and the elements. Told from a still photographer's perspective, the movie is peppered with interviews with professional cyclists like Lance Armstrong and George Hincapie. Read a four-star review of the film at Cycling News to whet your appetite.
The Paris – Roubaix Spring Classic has been going on for 110 years, though it was interrupted by both world wars. Luckily for the riders, the 161-mile route is not surfaced exclusively in cobbles, but has sections of jarring and slippery bumps, totaling 36 miles, before finishing on the historic vélodrome in Roubaix.
As road cyclists, we seek out smooth roads, bemoaning pothole-ridden streets (been on Ravenna Blvd. lately?!) and chipseal. Chipseal has nothing on French pavé. I found it fascinating to learn that these cobblestone roads, some dating back to the Roman era, were sometimes paved over by town officials in order to repel the race. Town leaders feared that cobblestone streets reflected poorly on a town's image. Today, that has changed, perhaps as towns see the tourism and influx of money that rides along in the slipstream of famous bike races.
Even still, the pavé is sometimes stolen as souvenirs or they break down altogether. The roads are in need of regular preservation and maintenance, so much so that there is a "Friends of Paris-Roubaix" group out there. (Friends of the Burke-Gilman, je vous presente Les amis de Paris-Roubaix.)
CASCADE FILM SERIES: Road to Roubaix
Friday, Jan. 21, 7 p.m.
(Doors open at 6:30 p.m.)
REI Seattle, 222 Yale Ave N
Tickets available in advance at Brown Paper Tickets.
Members: $8
Non-members: $9.99